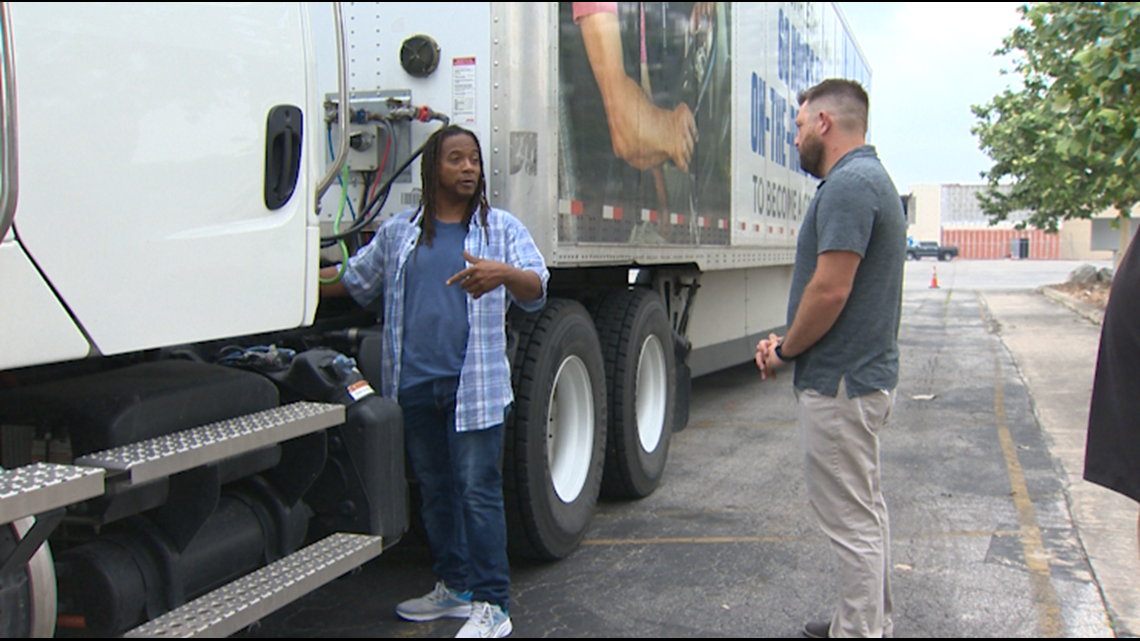 Train for Jobs SA takes on truck driving
Considering a career change? If your role was impacted by the pandemic, you could be eligible to receive income while completing free training programs through the City of San Antonio's Train for Jobs SA program. 
KENS 5 spoke with participants in the commercial driver's license program; the credential helps with roles in a high-demand industry, as companies face a driver shortage. Train for Jobs SA offers a wide variety of career tracks, including roles in business, IT, manufacturing & logistics, and trade industries. 
You can listen to the full conversation on the latest episode of Commerce Street, a business podcast from KENS 5, on Apple or Spotify or listen below:


Road to New Careers
:
Talking with Participants at the Good Careers Academy
One of the career training programs funded through Train for Jobs SA is a Commercial Driver's License program, administered by trainers including Goodwill's Good Careers Academy with wraparound services facilitated by Project QUEST. KENS 5 Eyewitness News spoke with several participants about their experiences in the program so far. 
Maurice Gunn, CDL training program participant
How did you get involved with the program?
I build chemical gas oil and nuclear refineries, I'm a pipe fitter, so at the beginning of the pandemic we got laid off, a lot of us. At the beginning I was at home and it was okay for awhile- but I like to move around, stay busy, keep myself occupied. So I saw an advertisement about Project QUEST and I think my daughter told me about it. I went through the necessary procedures to apply for it. My grandfather used to drive trucks- okay, cool. So I decided, if he can drive it… and do the things he was doing while driving it, I can do that.
I wanted something else under my belt as a skill and not just be one dimensional in my skills. It was another opportunity and every skill that I learn, I can make a business with that skill, and that's where I'm at.
What do you love about taking in new challenges?
The excitement; the adrenaline rush of taking in new challenges. Testing myself. Without progression, there's death. That's how I feel, my philosophy. As long as you keep progressing- your mind, your body, your spirit, will continue to elevate itself.
After you get your license, what are you going to do?
First, I'm going to drive and stack my money up. I'm not gonna lie, it's about the money- and it pays well. It can get far past the income I was making in the fields, by refineries, depending on where I want to go with it. It's the money – it's also having another skill under my belt, that excites me, and just doing something different. Driving, seeing the United States or different parts of our country – that'll be something beautiful. And I like it. So hey, go figure.
What else would you want people to know?
They have fabulous instructors; they have a – I don't know, big brother or what, but it works. I knew how to drive a standard but standards only have what, 5, 6 gears… There are a few things that were different but hey, I'm getting it. The instructors stay with you, they're patient and they actually care about you getting the CDL. Not just getting you through the class and getting their money- I thought it might be but it's not, they really care. They're organized and you learn quick, the way they teach. 
Taetwan Byrd, CDL training program participant
What interested you in the CDL program?
I always wanted to get my CDL seeing as I graduated high school and it was the perfect time because I saw the flyer from Project QUEST and if you qualify, they pay for training for you.
What are the classes like?
We do a lot of studying cause we have to know the parts of the truck and what to look for, make sure nothing's broken, and then other than that it's a lot of backing, downshifting, upshifting and a lot of driving. Learning how to maneuver this big old trailer.
How tough was it to learn how to drive the truck?
It was difficult at first cause I never drove anything this big, but once you learn it's easy.
What are you hoping to achieve after completing the program?
Right now I'm trying to find my own place to live – basically just get financially stable and have a good career. I would encourage anyone trying to find a good career and if anyone wants a good place to learn to drive trucks, this is the place to be. It's not easy, but once you learn you'll get the hang of it.
Ed Lopez, CDL Training Program Participant
Why did you choose the CDL program?
've always had a fascination with the big trucks, my grandfather was in the trucking industry for a long time, my uncle was in the industry for a long time, so just kind of felt like that's what I wanted to go do- be a trucker.
I heard about it through Project QUEST. They got me in, the process was pretty quick, you study your permit test and get all that done and once I got here my instructors Matt and Andy were pretty awesome about getting us ready to go for our driver's test and our license
What is it like driving a commercial vehicle?
It's very much different from driving a car. From shifting, in manual transmission – here it's double clutch everything, going up, going down, and you have two sets of gears, so you have 1 through 5, then you have to hit the switch and you go 6-10, it's not like a car – it's very much different from a car. Also the size of the vehicle, once it gets in you realize how big it is.
What are you most looking forward to after the program?
The thing I'm looking forward to most is a steady career, being able to provide and be with my family and not have to worry about everything.
[It really helps that they're] supporting us with tuition and providing us a stipend to for those of us who are low-income or don't have a job with money coming in right now, and all of that is great because you can focus on what you want to do and get your career moving.
What encouragement would you have for people who haven't done training like this in a while?
I haven't been to school in 20 years so I was nervous about getting your mind right back to studying, taking notes and learning – but our instructors have been real good about going over things with us, being patient and guiding us through the class. 
If you come here, get ready – our instructors are great, hands on, they care about you and want you to succeed and get your license. 
To enroll in programs with the Good Careers Academy directly, prospective participants can call (210) 271-8888 or email [email protected] They can also go through Project QUEST (more below); full funding  may be available.


More Career Paths Available
:
The Mayor on Train for Jobs SA: what's happening now & what's next?
Funding for the Goodwill Careers Academy CDL course and the wraparound services offered by Project QUEST comes from the Train for Jobs SA initiative, which was launched using CARES Act funding. There are a wide range of programs available, including in business, IT, manufacturing and logistics, and trade industries, and the program covers costs of needs such as childcare and transportation where necessary. Participants also receive stipends as income while training is being completed.
In the fall, Train for Jobs SA will transition into the voter-approved SA Ready to Work program. KENS 5 spoke with Mayor Ron Nirenberg, who championed SA Ready to Work, about the status of Train for Jobs SA, who it may impact, and what's next.
Can people still sign up, and what programs are available?
Absolutely. Train for Jobs SA, which is the CARES Act-funded workforce development program that was established by the council and really kicked off in October, November of last year, is well underway. It is still enrolling folks and has been quite successful. In fact, we have over 2,000 people that are in various parts of the pipeline at this point. 600, 700 have already been placed into jobs. That will transition into SA Ready to Work… starting in fall of this year. 
So it is still very active, and what we're doing with these programs is training folks who've been affected – unemployed or underemployed because of the pandemic – to train for jobs that are available today in our community that are in demand, high wage jobs.
What are some of the programs that have been popular, and fields that have an appetite for workers?
We have several different growth industries here in San Antonio that are creating a lot of jobs right now and that are economically mobile. Healthcare, being one of them. We also have construction, technology jobs, we have manufacturing, advanced manufacturing positions; we also have positions available that are experiencing a shortage nationwide, like CDL licensed truck drivers, that require certification credentialing and offer careers with economic mobility.
While they're in the training program they're also receiving a stipend, essentially a paycheck, while they're training for the credential.
The program was pretty overwhelmingly approved, but some people may not realize it's not that difficult to get a spot. Are spots open?
They are open. We have about 10,000 spots available depending on whether people choose short term training or long term training, but there is plenty of space available for people who have been impacted by pandemic-related unemployment or underemployment. What this program is doing is allowing people to train for an in-demand job that will likely have an opening when they finish.
What barriers do that stipend and wraparound services remove in terms of being able to do a program like this?
A lot of times it's not the cost of training that becomes the obstacle to completion and ultimately getting into a career. Many times its childcare or transportation issues in getting to the training or to the job, financial issues that come up related to rent or mortgage. This program also wraps the participant around with community organizations and services to anticipate any obstacles and remove them before they're reached so the participant can stay focused on completing the training and ultimately ending up in a gainful, economically mobile career for the benefit of themselves, their family and the entire community.
So that's why this program is so powerful- it stays with the participant from the intake process all the way to career placement. That's why I think what we're doing at scale will become a national model because we know that every city in the country, including San Antonio, has struggled with underemployment – the result of that being inter-generational poverty, children in poverty… That contributes to more low wage jobs that continue the cycles of poverty. So what we're doing is allowing people to bridge the gap between jobs that are available and waiting for employees, that require credentials and skills training- and then the workforce we have today.
There are thousands of jobs available in our community, in high-demand careers, high wage careers- that simply can't hire the workers because they can't find workers that have that skill set or that credential. We're bridging that gap and fighting intergenerational poverty in our city.
There have been several graduation ceremonies for this program – have you encountered those graduates, and what kinds of stories have you heard from them?
It is a little emotional listening to the stories of the participants and those who've graduated because they are filled with hope, they have gone from unemployment or paycheck to paycheck to now thinking about career trajectory and raising their children in a situation where they can advance their careers and ultimately spend time at home with their children helping with their education so they can create a path for their entire family. I met a young lady working in a vaccination registration process, was going through bookkeeping training, landed in a healthcare career, had just been unemployed due to pandemic-related closures, so again I think this is creating hope in our community and, at scale, fighting poverty in a way every city will be looking at in the future.
Do these tend to be jobs that provide more liveable wages, and what does that mean?
Simply put, it means families – heads of households – will no longer have to work 3-4 jobs just to put food on the table. A living wage means you can keep the roof over your head and food on the table without having to spend all your time working just to pay the bills. A liveable wage is calculated by the local area income and cost of living, and so these jobs that are… The training tracks that are part of Train for Jobs SA and ultimately SA Ready to Work, are focused on in-demand careers, meaning they have jobs available in our community today, those jobs are growing, and they have career trajectories that have living wages. That was one of the criteria to build the program, and it's one of the criteria on which the city council will be governing the SA Ready to Work program moving forward.
How does a program like this fit into the broader infrastructure in San Antonio in terms of planning for the future, pieced together with programs like AlamoPROMISE, for example?
It is true that San Antonio historically has unfortunately faced an immense amount of persistent poverty, generational poverty, and we have suffered also from low wages in the community. We want to make sure that in this city, people – that we can live and thrive has families, and that requires us to be mindful of cost of living, but also that people can do well and be able to work in a thriving environment. In terms of the most priorities for us as a community moving forward: I believe access to education, and good jobs, good-paying jobs, are critical. So this program, paired with AlamoPROMISE, and the work we're doing with the earliest learners – Pre-K 4 SA – is creating a pipeline of education and workforce training that allows our community to take the jobs that are available and growing in the 21st century economy. That is how we're going to be able to grow a healthy economy and continue to see San Antonio rise in terms of quality of life and a healthy economy post-pandemic.
What else do you want people to know?
I can't emphasize enough that there are slots available. If you are interested in training for a new career that pays well and offers economic mobility and a career trajectory in a job and field available today, Train for Jobs and SA Ready to Work are open and available. You can call 311 for information and from intake to career placement there will be services available to ensure success. 
To learn more about Train for Jobs SA, call 311 or click here. 


Bridging the Gaps
:
The role of Project QUEST
Train for Jobs SA is administered through partnerships among a number of local organizations, including Project QUEST. Currently, QUEST says it guides people through 32 career tracks, and that 1200 participants are currently in various stages of the program.
Project QUEST sees participants through the entire training, search and employment process, taking skills inventories to match participants up with possible programs, and seeing them through the first few months of employment, assisting them with hurdles along the way.
KENS 5 spoke with David Zammiello, President and CEO of Project QUEST, about its role in the process.
What role does Project QUEST serve within Train for Jobs SA?
Project QUEST by nature is a workforce intermediary. Our role in Train for Jobs is to facilitate getting residents access to training programs and services and helping guide them through a retraining program and get ready for employment opportunities on the back end. We've been doing that in the San Antonio community for almost 29 years now.
Talk to me about the process for someone who participates.
Part of what's core to Project QUEST's success is what's referred to as wraparound services. So it's one thing to outreach in the community and identify people who have the skills and desire for new training. But then to support them- you provide that holistic support to anyone going through the program. It gives them the right assessment, to make sure we understand what their skills and abilities are, match them to the right training- whether that's in a community college setting, or a proprietary setting-provide them the personal coaching so they can stay on track with the process, and help them overcome the barriers. 
It's really and end to end set of services- from intake and assessment, to the training, to the personal coaching and encouragement, the job readiness and job placement- and then ensuring that they're persistent in the job. And those aren't just any jobs- these are jobs with a living wage so they can support their families.
Who would you encourage to pursue these programs?
There's opportunities out there. So anybody who is seriously interested in acquiring the skills and making a change in their lives professionally- we're about accessibility to the programs and services. The encouragement is to take that chance, step forward and see what Project QUEST has to offer. 
One of the main things is that Project QUEST serves in an intermediary role. We have a vast partnership network, so we work with a lot of key institutions here in the community. So Project QUEST can be that one stop shop to gain access to a variety of resources. We work with a lot of different training partners- Alamo Colleges, Goodwill Academies, things like that- and we also work with a vast number of employers so they can look at employment opportunities along the way.
To learn more about Project QUEST or enroll in its programs, click here. You can also call 311 to access QUEST through Train for Jobs SA. 


Getting Involved
:
How to Apply for the Program
To learn more about Train for Jobs SA, to determine if you qualify, and to apply for the program, click here or call 3-1-1. This is the easiest way to receive funding for all training and wraparound services through the program.
To learn more about Project QUEST and the programs it offers directly, click here. You may be eligible for funded assistance through Train for Jobs SA or another funding source.
To learn more about Good Careers Academy, click here. You may be eligible for full funding assistance and support services.
RELATED: There's a truck driver shortage, so one Texas company is offering experienced drivers $14K a week